Sigma Pack 2 Activation
Pack 2 Activation for Sigma enables service features for the latest Qualcomm Hexagon smartphones.
After successful transaction we will send your activation code on your email address.
I've got the activation code. What shall I do next?
This particular Activation Pack 2 can be used with SigmaKey Dongle or Sigma Box only.
Pack 2 Activation for Sigma – Supported Platforms and Features
Qualcomm Hexagon
Decode
Get Codes

Motorola smartphones: Read codes, Read SPC code
ZTE, Sony smartphones: Get codes

Repair IMEI
Decode Motorola bootloader
Supported Phone Models: *
Motorola – Qualcomm:
Hexagon (ADB Mode)
Atrix 3 HD, Atrix HD LTE
DROID MINI, DROID RAZR M 4G LTE, DROID ULTRA, DROID ULTRA MAXX
MB886
Moto X Photon Q 4G LTE
RAZR HD, RAZR M, RAZR MAXX HD
Softbank 201M XT1030, XT1052, XT1053, XT1055, XT1056, XT1058, XT1060, XT1080, XT1080M, XT897, XT902, XT905, XT907, XT925, XT926
Hexagon
Droid Maxx 2, Droid Turbo 2
E4 Plus G, Forte G Turbo
G4, G4 Plus, G5 Plus, G6 Play
Moto E, Moto E (2nd Gen), Moto E4, Moto E4 Plus, Moto E5, Moto E5 Play, Moto E5 Plus, Moto G, Moto G (2nd Gen), Moto G3, Moto G5, Moto G5 Plus, Moto G5s, Moto G5s Plus, Moto G7, Moto G7 Plus, Moto Maxx, Moto Turbo, Moto X (2nd Gen), Moto X Play, Moto X Style, Moto X+1, Moto X4, Moto X4 2018, Moto Z, Moto Z2 Force River
XT1008 XT1021 XT1022 XT1023 XT1025 XT1032 XT1033 XT1035 XT1039 XT1040 XT1045 XT1063 XT1064 XT1068 XT1069 XT1072 XT1077 XT1078 XT1079 XT1092 XT1093 XT1095 XT1097 XT1225 XT1254 XT1506 XT1521 XT1523 XT1524 XT1526 XT1527 XT1528 XT1540 XT1541 XT1542 XT1543 XT1544 XT1548 XT1550 XT1557 XT1562 XT1563 XT1565 XT1572 XT1575 XT1580 XT1585 XT1600 XT1601 XT1602 XT1603 XT1604 XT1607 XT1609 XT1621 XT1622 XT1624 XT1625 XT1626 XT1635 XT1640 XT1641 XT1642 XT1643 XT1644 XT1650 XT1655 XT1670 XT1671 XT1672 XT1675 XT1676 XT1677 XT1681 XT1683 XT1685 XT1686 XT1687 XT1706 XT1710 XT1765 XT1766 XT1767 Xt1768 XT1774 XT1789 XT1789 XT1791 XT1792 XT1793 XT1794 XT1795 XT1797 XT1800 XT1801 XT1802 XT1803 XT1804 XT1805 XT1806 XT1900-1 XT1900-2 XT1900-4 XT1900-5 XT1900-6 XT1900-7 XT1920-15 XT1920-16 XT1920-18 XT1920-19 XT1920DL XT1921-6 XT1921-8 XT1922-4 XT1922-7 XT1924 XT1924-8 (Sprint) XT1925 XT1926 XT1929 XT1944 XT1962-1 XT1962-4 XT1962-5 XT1962-6 XT1965-2 XT1965-3
Z Play, Z2 Force, Z3 Play
Sony:
Aoba
C1904, C1905, C2004, C2005, C2104, C2105, C5302 / C5303 / C5306
Hikari / Hayabusa
HuaShan, HuaShan Chun / HuaShan Rex
IS12S
LT25 / LT25i, LT26 / LT26i, LT26ii / LT26w, LT28 / LT28i, LT28h / LT28at, LT29 / LT29i , LT30a / LT30p / LT30at
M35t-CS / M35i, M35t-SG/ M35ts
Mint / Mint Amy / Mint Rita
Nicki DS, Nicki SS
Nozomi
S36 / S36h
SO-01E, SO-02D / SO-03D, SO-04D / SO-05D, SOI12 / SOL21
TaoShan
Tsubasa
Xperia acro HD, Xperia AX, Xperia GX, Xperia Ion HSPA / Xperia Ion, Xperia L, Xperia M, Xperia M Dual, Xperia NX, Xperia S / Xperia acro S, Xperia SL / Xperia SX, Xperia SP LTE, Xperia SP TD-LTE, Xperia TL / Xperia T, Xperia TX, Xperia VL / Xperia V
Vodafone:
Smart 4 max, Smart Tab II 10, Smart ultra 6, VDF-995N, VFD 600, Vodafone Smart Prime 7
Smart E8 VFD510, VFD511, VFD512, VFD513
ZTE:
402ZT
Avea inTouch 4
Beeline Smart2/V811W
Blade Apex, Blade Apex 2 (V1.0.0B01), Blade A460, Blade D Lux, Blade G LTE, BLADE Q+, Blade V220, Blade Vec 4G
Compel
Concord II
Grand Era LTE, Grand S Flex, Grand X, Grand X LTE, Grand X Z933
Hop Smart
Kis 3
Megafon 4G Turbo
Moche Smart A16 (MEO)
Mustang
Nubia Nx406e
N9510C, N9511
Open C, Open II / Open 2
Optus V811
Orange Hi 4G (OFR_FR_P892E10V4.4; OSP_ES_P892E10V9.5), Orange Novi, Orange Rono
Overture, Overture LTE
Radiant
Rapido LTE
SFR StarXtrem
Skinny V811
Sonata 4G
Source
T617, T792, T80, T81, T82, T83
Teknosa Preo P1
Telstra Dave, Telstra Easy Touch 4G, Telstra Evolution, Telstra Frontier 4G, Telstra Rush
TMN Smart A60
T-Mobile Concord II
Turkcell T50
U9810
Unico LTE
V811, V811W, V9800, V9800
Z667 GoPhone, Z667T – Z667T_BSPTV1.0.0B02 / Z667TV1.0.0B08, Z669, Z730, Z740, Z740G, Z755, Z777, Z787, Z792, Z826, Z830, Z932L, Z933, Z958, Z970_MetroPCSV1.0.0B05 / Z970_MetroPCSV1.0.0B06 / Z970V1.0.0B20, Z987, Z995, Z995C, Z998, ZMAX
Micromax:
Micromax Q415 Canvas Pace 4G
Wider list of supported mobile phones can be viewed on the manufacturer's website.
Note! All Sigma users with Sigma Pack 2 activated will get access to all future updates introduced to this pack.
How to Activate:
Click on the "SigmaKey" tab.
Enter the received code into the "Activation Code" field (as shown on the picture below).
Click on the "Activate Pack" button.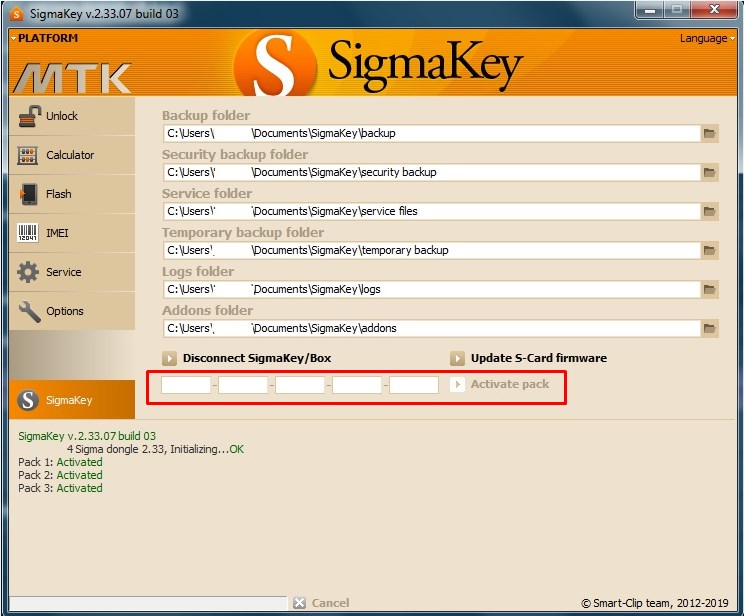 Additional features will be available straight away after successful activation!
Package Content
Activation Code for Pack 2
The product is digital – no packaging!
When we confirm your payment and process your order, we will send your activation code and detailed instructions to your email.
DO NOT EXPECT ANY CARD SHIPPED to you. The plastic card on the picture is only for design purposes.
* Developer provides support only for those phones which are on the list of supported. Not all servicing features can be applied to some supported models, due to difference of hardware / software versions.