Sigma Pack 3 Activation
Pack 3 Activation for Sigma enables FRP REMOVE feature for Hi-Silicon Huawei Android and Qualcomm Huawei Android smartphones.
After successful transaction we will send your activation code on your email address.
I've got the activation code. What shall I do next?
This activation can be used with SigmaKey Dongle or Sigma Box only.
Supported Features:
REMOVE FRP using SAFE MODE:
New algorithm of flashing adds flashing feature for the newest Huawei smartphones. This allows you to use new methods of REMOVE FRP via SAFE MODE on the following models:
BKK-L21, BKK-LX2
CLT-L04, CLT-L09, CLT-L29
CMR-AL09
COL-AL10, COL-L29, COL-TL10
COR-AL00, COR-TL10
HRY-AL00, HRY-AL00A, HRY-AL00T, HRY-AL00TA, HRY-LX1, HRY-LX1MEB, HRY-LX1T, HRY-LX2
INE-LX1, INE-LX1R, INE-LX2, INE-LX2R
JKM-AL00, JKM-AL10, JKM-AL20, JKM-LX1, JKM-LX2, JKM-LX3, JKM-TL00
JSN-L21, JSN-L22, JSN-L23, JSN-L42
HMA-AL00, HMA-L29
SNE-LX1
STK-L01, STK-L01M, STK-L21, STK-L21VHN
VKY-AL00, VKY-L09, VKY-L29, VKY-TL00
Remove FRP feature using SPFT method
Motorola, Alcatel, Huawei and all other MTK devices
Non-secure MTK smartphones are supported
Ability to perform FRP Remove operation for unknown MTK smartphones using own Download agent
FRP Remove via Testpoint
FRP Remove via Testpoint for Qcom and HiSilicon based devices
FRP Remove for Hi-Silicon Huawei Android Smartphones
4Huawei 8 Pro
BAC-AL00, BAC-TL00
D188-L29
DUK-AL00, DUK-AL10, DUK-AL20, DUK-AL30, DUK-L09, DUK-L29, DUK-TL30
Honor 8 pro, Honor 9, Honor V9
LON-AL00, LON-CL00, LON-L09, LON-L29, LON-TL10B
Mate 9, Mate 9 Pro
MHA-AL10, MHA-L09, MHA-L29, MHA-TL00
Nova 2, Nova 2 Plus
P10, P10 Plus
PIC-AL00, PIC-TL00
STF-AL10
VKY-AL00, VKY-L09, VKY-L29
VTR-AL00, VTR-L09, VTR-L29, VTR-TL00
402HW, 403HW
7D-501L, 7D-501u, 7D-503L, 7D-503LT, 7D-504L
ALE-CL00, ALE-L01, ALE-L02, ALE-L03, ALE-L21, ALE-L22, ALE-L23, ALE-L32, ALE-L34, ALE-L52, ALE-L53, ALE-L62, ALE-TL00, ALE-UL00
Ascend D2, Ascend P2
BLL-L21, BLL-L22
BLN-AL40, BLN-L21, BNL-L21
CAM-L03, CAM-L21, CAM-L23, CAM-TL00H
CHC-U01, CHC-U03, CHC-U23
Che2-L03, Che2-L11, Che2-L12, Che2-L23, Che2-TL00, Che2-TL00H, Che2-TL00M, Che2-TL10, Che2-TL10M, Che2-UL00, Che2-UL10
CHM-CL00, CHM-CL10, CHM-TL00, CHM-TL00H, CHM-TL10, CHM-TL10H, CHM-U01, CHM-U23, CHM-UL00, CHM-UL10
CRR-CL00, CRR-CL20, CRR-L09, CRR-TL00, CRR-UL00, CRR-UL20
D2-0082, D2-5000, D2-6070, D2-6114
DAV-701L, DAV-702L, DAV-703L, DAV-713L
dtab Compact d-02H
EVA-AL00, EVA-AL10, EVA-L09, EVA-L19, EVA-L29, EVA-TL00, EVA-xxx
FRD-AL10, FRD-L09
G Play, G play mini
G735-L03, G735-L11, G735-L12, G735-L23
Glory 6+
GR3 2017, GR5 2017
GRA-CL00, GRA-CL10, GRA-L03, GRA-L09, GRA-L13, GRA-TL00, GRA-TL10, GRA-UL00, GRA-UL10
GT3
H30-L01, H30-L01M, H30-L02, H30-L11, H30-L12
H60-J1, H60-L01, H60-L02, H60-L03, H60-L04, H60-L11, H60-L12, H60-L21
Honor 3C, Honor 4C, Honor 4C Play, Honor 4X, Honor 5A, Honor 5C, Honor 6, Honor 6 Plus, Honor 6X, Honor 7, Honor 7 Lite, Honor 7 Premium Edition, Honor 7 Standard Edition, Honor 7 Standard Edition Dual SIM, Honor 8, Honor 8 Lite, Honor 8 Lite 2017, Honor 8 smart, Honor 8 Youth Edition, Honor 8V, Honor Holly 3, Honor Magic, Honor Spree 4x Dual SIM, Honor V8
HW-SCL-L32
Jazz-L09, Jazz-TL00, Jazz-TL10, Jazz-TL20, Jazz-UL00
LUMIERE 503HW
Mate 2, Mate 7, Mate 7 Dual, Mate 8, Mate 9 Lite, Mate S
MediaPad 10 Link+, Mediapad M1 8.0, MediaPad M2-801l, Mediapad M3, Mediapad X1 7.0
MT2-U071, MT7-J1, MT7-L09, MT7-L11, MT7-TL00, MT7-TL10, MT7-TL10A, MT7-TL20, MT7-UL00
NEM-AL10, NEM-L21, NEM-L22, NEM-L31, NEM-L51, NEM-TL00, NEM-UL10
NMO-L01, NMO-L02, NMO-L03, NMO-L21, NMO-L22, NMO-L23, NMO-L31, NMO-L51
Nova Lite
NXT-AL10A, NXT-AL10B, NXT-CL00B, NXT-DL00A, Nxt-l09, NXT-L09A, NXT-L09B, NXT-L29, NXT-TL00A
P10 Lite
P2-6011, P2-6013, P2-6070
P6S-U00, P6S-U04, P6S-U06
P7, P7-L00, P7-L05, P7-L07, P7-L09, P7-L10, P7-L11, P7-L12, P7-L15, P7-L18
P8, P8 lite 2017, P8 Max 4G, P8 Premium Edition, P8 Standard Edition, P8-Lite
P9, P9 Lite, P9 Lite 2017, P9 Plus, P9 premium edition
PE-CL00, PE-CL10, PE-TL00M, PE-TL10, PE-TL20, PE-UL00
Pine-CL00, Pine-CL10, Pine-TL00M, Pine-TL10, Pine-TL20, Pine-UL00
PLK-AL10, PLK-C00, PLK-CL00, PLK-L01, PLK-L11, PLK-L21, PLK-TL00, PLK-TL01H, PLK-TL11H, PLK-UL00, PLK-UL10
PRA-AL00, PRA-AL00X, PRA-LA1, PRA-LX1, PRA-LX2, PRA-LX3, PRA-TL10
Prague, S8-301L
S8-301LM, S8-301u, S8-302L, S8-303L, S8-304LD, S8-306L, S8-30xL
VEN-L22
VIE-AL10, VIE-L09, VIE-L29
VNS-L01, VNS-L02, VNS-L03, VNS-L11, VNS-L21, VNS-L22, VNS-L31, VNS-L53
WAS-AL00, WAS-LX1, WAS-LX1A, WAS-LX3
Washington
Y6II
FRP Remove for Qualcomm Huawei Android Smartphones
Huawei BAH-AL00
BAH-L01, BAH-L09, BAH-W09
CAN-AL00, CAN-AL10, CAN-L01, CAN-L02, CAN-L03, CAN-L11, CAN-L12, CAN-L13, CAN-TL10, CAN-TL20
CAZ-AL00
ENJOY 7 PLUS
G9 Plus
Maimang 5
MediaPad M3 Lite 10
MLA-AL00, MLA-AL10, MLA-CL00, MLA-L01, MLA-L02, MLA-L03, MLA-L11, MLA-L12, MLA-L13, MLA-TL00, MLA-TL10, MLA-UL00
Nova, Nova Plus
TRT-AL00, TRT-L01, TRT-L03, TRT-L21, TRT-L22, TRT-L23, TRT-L53, TRT-TL10
ALE-L04
Ascend D LTE, Ascend Mate 2, Ascend Mate2 4G, Ascend P1 LTE, ASCEND XT, Ascend Y530-U00, Ascend Y530-U051
ATH-UL01, Ath-ul06
CAM-AL00, CAM-L32
Che1-CL10, Che1-CL20, Che1-L04
G526, G527-U081, G535, G535-L11
G6-L11, G6-L22, G6-L33, G6-U00, G6-U10, G6-U251, G6-U34
G615, G615-U10, G620-A2, G620-L72, G620-L75, G620S, G620S-L01, G620S-L02, G620S-L03, G620S-UL00, G621, G621-TL00, G621-TL00M, G630, G630-T00, G630-U00, G630-U10, G630-U20, G630-U251, G630-U30
G7, G7 Plus, G7-L01, G7-L02, G7-L03, G7-L11, G7-UL10, G7-UL20
G716, G740, G740-L00, G760-L02
G8, G9 Lite, GR5, GX8
H1611
Honor 4A, Honor 4X, Honor 5A, Honor 5X, Honor 6 Pro, Honor 7i
HW-01E
Kestrel
KII-L05, KII-L21, KII-L22, KII-L23, KII-L33
KIW-AL10, KIW-AL10G, KIW-AL20, KIW-L21, KIW-L22, KIW-L23, KIW-L24, KIW-TL00, KIW-TL00H, KIW-UL00
GR5
GX8
Honor 4A, Honor 4X, Honor 5X, Honor 6 Pro, Honor 7i
KII-L21, KII-L22, KII-L23
KIW-AL10, KIW-AL10G, KIW-AL20, KIW-L21, KIW-L22, KIW-L23, KIW-L24, KIW-TL00, KIW-TL00H, KIW-UL00
MediaPad 7 Youth2, Mediapad S7-301u, MediaPad T1 10.0, MediaPad T1 8.0 Pro, MediaPad T2 7 Pro
MT2L03
PLE-701L
RIO-L01, RIO-L02, RIO-L03, RIO-TL00
S7-302u, S7-303u, S7-312u, S7-721u, S7-722u
S8-701u
SCC-U21
SCL-AL00, SCL-L01, SCL-L02, SCL-L03, SCL-L04, SCL-u31
ShotX
SnapTo
SoftBank Huawei Stream 201HW
T-Mobile Prism II
T1-821L, T1-A21L, T1-a22l
U8686, U9201L, U9202L, U9501L
Ultym5
VNS-AL00
Y301-A1 Valiant, Y301-A2 Vitria, Y336-A1, Y340, Y340-U081
Y536-A1, Y536A1 AT&T Tribute, Y538, Y538-A1, Y540, Y540-U01, Y550-L01, Y550-L02, Y550-L03, Y550-L13
Y635-L02, Y635-L03
Y6ii
Youth2
FRP Remove for Qualcomm Alcatel/Vodafone Android Smartphones
4060a
5054O, 5056O, 5065O
5098S
6055A
7048X
9001D, 9001I, 9001X
9006W
9007T, 9007X (for EE)
9015B, 9015W
9030Q
Fierce 4
Flint
Go Play
IDEAL
IDOL 4
M823
One Touch Allura
One Touch Conquest
One Touch Idol 4S
One Touch PIXI 3 (7), One Touch PIXI 4, One Touch PIXI 4 6.0, OneTouch Pixi 7
One Touch POP 2 (5) Premium, One Touch POP 3 (5.5), One Touch POP 4, OneTouch Pop 4+, One Touch POP 7
OT-4045, OT-4060
OT-5042X, OT-5051, OT-5054, OT-5054N, OT-5054s, OT-5054W, OT-5056, OT-5057, OT-5065, OT-5098, OT-5154
OT-6039Y, OT-6045, OT-6045B, OT-6045i, OT-6045O, OT-6055, OT-6070
OT-7044, OT-7048
OT-9001, OT-9006, OT-9007, OT-9015, OT-9022, OT-9030
OT-A621R
OT-I806
OT-M823F
OT-V895N, OT-V900
OT-VF1397, OT-VF1400, OT-VF1497
Tab Prime 6
TCL 5042A, TCL 5042W
VF-1497
VFD 900
Vodafone Tab Prime 7, Vodafone Tab Speed 6
FRP Remove for Qualcomm Lenovo Android Smartphones
Lenovo K5 Plus (A6020a46)
Lenovo K6 Power (K33a42)
Lenovo Phab 2 Pro (PB2-690M)
Lenovo TAB2 A10 (TB2-X30F)
Lenovo Tab3 8 Plus (TB-8703F)
Lenovo Tab3 8 Plus (TB-8703X)
Lenovo Tab4 10 (TB-X304L)
Lenovo Tab4 10 (TB-X704F)
Lenovo Tab4 10 Plus (701LV)
Lenovo Tab4 10 Plus (702LV)
Lenovo Tab4 8 (TB-8504F)
Lenovo Tab4 8 (TB-8504X)
Lenovo Tab4 8 Plus (TB-8704X)
Lenovo Vibe K5 (A6020L37)
Lenovo Vibe K6 (K33a48)
Lenovo Vibe K6 (K33b36)
Lenovo Vibe P1 (P1C72)
Lenovo Vibe Shot (Z90a40)
Lenovo Vibe X3 (X3a40)
Lenovo Yoga Tab 3 10 (YT3-X50F)
Lenovo Yoga Tab 3 8 (YT3-850F)
Lenovo Yoga Tab 3 8 (YT3-850L)
FRP Remove for Moto MTK Smartphones
Moto C (XT1750)
Moto C (XT1754)
Moto C (XT1755)
Moto C (XT1756)
Moto C (XT1757)
Moto C (XT1758)
Moto C Plus (XT1721)
Moto C Plus (XT1723)
Moto C Plus (XT1724)
Moto C Plus (XT1725)
Moto C Plus (XT1726)
Moto E3 (XT1700)
Moto E3 Power (XT1706)
Moto E4 (XT1760)
Moto E4 (XT1761)
Moto E4 (XT1762)
Moto E4 (XT1763)
Moto E4 (XT1764)
Moto E4 (XT1769)
Moto E4 Plus (XT1770)
Moto E4 Plus (XT1771)
Moto E4 Plus (XT1772)
Moto E4 Plus (XT1773)
Moto M (XT1662)
FRP Remove for Mediatek-based Huawei Android Smartphones
CUN-L01, CUN-L02, CUN-L03, CUN-L21, CUN-L22, CUN-L23, CUN-L33, CUN-U29
Enjoy 5
GR3
Holly 2 Plus
Honor 4C Pro
LUA-L01, LUA-L02, LUA-L03, LUA-L13, LUA-L21, LUA-L22, LUA-L23, LUA-U02, LUA-U03, LUA-U22, LUA-U23
LYO-L01, LYO-L02, LYO-L21
P8 LITE SMART
TAG-L01, TAG-L03, TAG-L13, TAG-L21, TAG-L22, TAG-L23, TAG-L32
TIT-AL00, TIT-CL00, TIT-CL10, TIT-L01, TIT-TL00, TIT-U02
Y3II
Y5II
Y6 Elite, Y6 Pro, Y6II compact
Huawei Y3 2017
CRO-U00, CRO-L02, CRO-L03, CRO-L22, CRO-L23
Huawei Y5 2017
MYA-L02, MYA-L03, MYA-L22, MYA-L23, MYA-L41, MYA-U29
Huawei Y6 2017
FRP Remove for Qualcomm ZTE Android Smartphones
BLADE A310
Vodafone Smart Prime 7 / VFD 600
Vodafone Smart Ultra 6 / VF-995N
Turkcell T70
Conexis x1
FRP Remove for Spreadtrum Huawei Android Smartphones
MediaPad T3 7
Mediapad T2 7.0
BG2-U01
BG2-U03
BGO-DL09
BGO-L03
IMEI REPAIR feature for Alcatel Qcom based devices
Full IMEI repair support for a group of newest Alcatel smartphones:
OT-4045 / 4045D / 4045X / 4045A
OT-4060 / OT-4060A / OT-4060O / 4060S
OT-5042 / 5042A / 5042D / 5042X
OT-5051 / 5051D / 5051J / 5051X / 5051M
OT-5054 / OT-5054O / OT-5054W / 5054X / 5054D / 5054S / 5054A
OT-5056 / 5056e / 5056M / 5056A / 5056X / 5056D
OT-5057 / 5057M / 5057A
OT-5065 / OT-5065O / 5065D / 5065J / 5065X / 5065A
OT-5098 / 5098S / OT-5098O
OT-5154 / 5154A
OT-6039 / 6039K / 6039S / 6039A / 6039Y / 6039H
OT-7043 / 7043A / 7043K / 7043Y / 7043E
OT-7044 / 7044Y / 7044X
OT-7048 / 7048X / 7048A / 7048S
OT-9001 / 9001D / 9001I / 9001X
OT-9006 / 9006W
OT-9007 / 9007T / 9007X
OT-9015 / 9015B / 9015W / 9015B
OT-9022 / 9022D / 9022X / 9022S
OT-9030 / 9030G / 9030Q / 9030Y
OT-A621R
OT-V895N / VF-895N
OT-VF1397
OT-VF1400
OT-VF1497 / VF-1497
Decode, IMEI Repair feature for Sony Xperia C / C4 / C5 Ultra / E4 / E4g / M5 smartphones
Sony Xperia E4g / Calla SS
Sony Xperia E4g Dual / Calla DS
Sony Xperia C / Pelican
Sony Xperia C4 / Cosmos SS
Sony Xperia C5 / Lavender DS
Sony Xperia C4 Dual / Cosmos DS
Sony Xperia C5 / Lavender SS
Sony Xperia M5 / Holly SS
Sony Xperia M5 / Holly DS
Sony Xperia E4 / Jasmine SS
Sony Xperia E4 Dual / Jasmine DS
Decode, IMEI Repair feature for Huawei MTK Smartphones
Y5 2018 / DRA-L21 / DRA-LX3
Y5 Prime 2018 / DRA-L02 / DRA-L22 / DRA-LX2
Y5 Lite 2018 / DRA-LX5
Enjoy 8e Youth / DRA-AL00
Honor Play 7 / DUA-AL00 / DUA-TL00
Honor 7S / DUA-LX2 / DUA-LX3
HUAWEI Y5P / HUAWEI Y6P
DRA-LX9 / DUA-LX9N
MED-LX9 / MED-LX9N
MOA-LX9N
ENABLE DOWNGRADE
New method for Huawei HiSilicon/Qcom based smartphones
Rescue mode entering
New feature for Huawei HiSilicon/Qcom based smartphones
Flash via upgrade mode
Please, use this method as a main method to flash Huawei smartphones.
Flash via fastboot mode
This feature is intended to be used for phones that won't turn on, freeze on logo, etc., but still can enter fastboot mode. It's not intended for regular reflashing.
Full/partial write of firmware partitions
FAST direct firmware write via fastboot mode
Flash of regular update.app files to devices with locked bootloader
Possible to use original flash files from open sources
REPAIR using board software files
REPAIR feature for bricked Huawei smartphones based on HiSilicon/Qcom that still can be detected in the System as:
VID12D1 PID3609 (HUAWEI USB COM 1.0)
Qualcomm HS-USB QDLoader 9008
Auto download of add-on files
Sigma detects the file you need and downloads it automatically
Qcom AUTODETECT feature
Ability to select different loaders for phones with the same IDs.
Biggest loaders database for almost all popular brands on the market: Oppo, Blu, Vivo, Xiaomi, Asus, Lenovo, ZTE, Wiko, Nokia, Hisense and more.
No need to download the loaders manually.
Sigma detects the loader that fits your phone, downloads it from the database and sends it to the phone automatically.
One-click solution for phones connected in EDL mode.
Potentially allows you to add service support for 1000 or more phone models.
Other service features using testpoint for Huawei models
Load Fastboot feature for devices in "HUAWEI USB COM 1.0" state
Write original Update.app files USING TESTPOINT
ENABLE DOWNGRADE USING TESTPOINT
Write OEM INFO USING TESTPOINT
Every Sigma owner can activate Pack 3 and get access to these particular and future features, which will be introduced in this Pack.
How to Activate:
Click on the "SigmaKey" tab.
Enter the received code into the "Activation Code" field (as shown on the picture below).
Click on the "Activate Pack" button.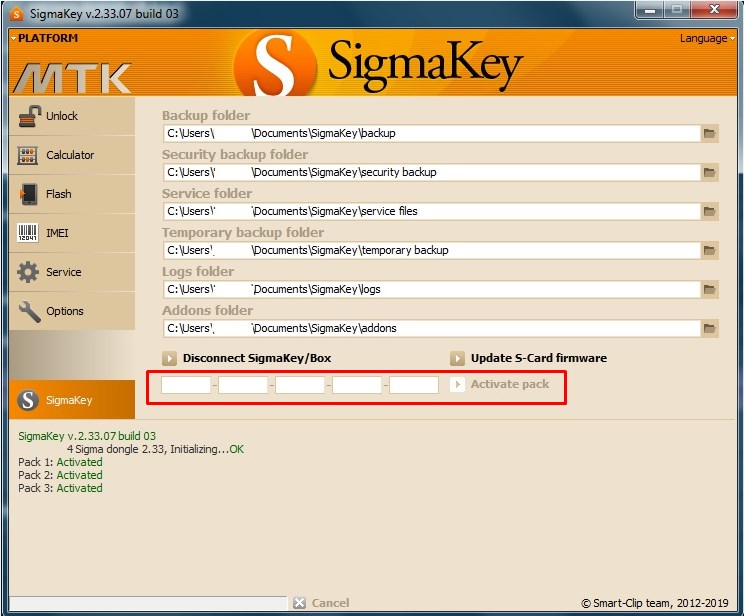 Additional features will be available straight away after successful activation!
Pack 3 Activation for Sigma – Package Content:
Activation Code for Pack 3
The product is digital – no packaging!
When we confirm your payment and process your order, we will send your activation code and detailed instructions to your email.